Victoria Group has rail connections to the national network operating from the Port of Seaham and Port of Boston, with potential for connections from Sharpness Dock and Plymouth. Around 300,000 tonnes of rail freight are handled by the Group each year. From Seaham, train loads of cement arrive regularly, whilst the Port of Boston sends a daily rail delivery of  steel coil to the Group's rail distribution centre in the West Midlands.
Victoria Group West Midlands Rail Terminal
Victoria Group West Midlands Rail Terminal offers same-day call-off of steel coils to clients in the West Midlands.
We run a dedicated train 5 days a week to this facility from the Port of Boston.
We also handle third party trains.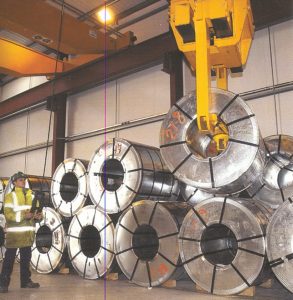 The Rail Terminal has a capacity of approximately 13,000 tonnes of storage for steel coils, mostly destined for the automotive industry. The West Midlands is the epicentre of the reprocessing industry, working coils for automotive manufacturers – either splitting parent coils into suitable sizes, or producing blanks ready for pressing into body panels.
Victoria Group West Midlands Rail Terminal is fitted out with bespoke storage suitable for steel coils, overhead gantry cranes with a SWL 30 tonnes.
From the Rail Terminal, Victoria Group offers a JIT delivery service to our customers in the local area.
Find out more about the Victoria Group's ROAD TRANSPORT services.