The Port of Boston is located on the Wash, on the East Coast of England serving a wide hinterland – in particular the West Midlands, but also London, the North West and North East. The port facilities are available to customers with cargo destined for a huge range of destinations across the UK.
This facility is tidal and can handle vessels of up to 120 LOA, with Always Afloat berths, as well as Riverside NAABSA. As a general guide, the facility can accommodate vessels of up to 13.6m beam into the dock. A wider ship may be capable of entering the enclosed dock,  subject to discussion with the harbour master.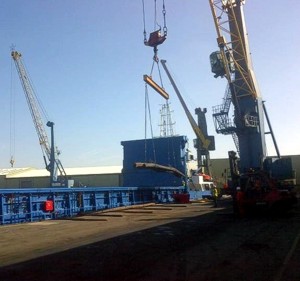 There are 18,000 square metres of warehousing and the Port of Boston also benefits from an independent Farmers Co-operative  grain silo which can store 50,000 tonnes of grain, with its own ship elevation facility.
This port facility is equipped with
a wide range of cranes of up to 40 tonne lift capacity
forklifts, some with specialist attachments for particular cargoes
hyrdaulic material handlers, ideal for bulk cargos, and able to safely and efficiently handle break bulk commodities, including pallets, paper reels and waste bales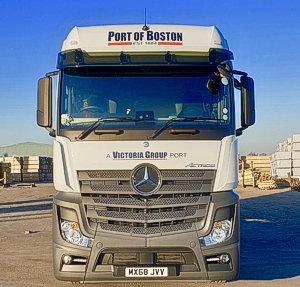 The Port of Boston benefits from direct access to the Victoria Group Transport Fleet as well as many other haulage sub-contractors, to enable distribution of customer product to complete the supply chain solution.
The Port of Boston is rail connected and has an active daily steel train service to the Victoria Group Steel Terminal in the West Midlands.
A bespoke stock control management and reporting system is available.
The Port of Boston:

operates to UKWA (UK Warehousing Association) standards
is accredited by FIAS (Fertiliser Industry Assurance Scheme)
is accredited by TASCC
(Trade Assurance Scheme for Combinable Crops)